COVID-19 Resources for Premier's provider community




Latest News &  Critical Updates
Best Practices for Clinics
Limit how germs can enter the facility. Limit walk in appointments. If a patient needs a same day appointment, post a sign on the door with your practice office phone number and have them call and wait in the car and ask symptoms before they enter the clinic.
Some other suggestions include:
• Cancel elective procedures
• Use telemedicine when possible
• Limit points of entry and manage visitors
• Screen patients for respiratory symptoms
• Encourage patient respiratory hygiene using alternatives to facemasks
For sick patients, have patient enter through one door and immediately go into exam room. For routine patients, encourage patient to do telemedicine visits to lessen exposure.
Waiting areas:
• Try to limit patient time in wait area to less than 5 minutes before he/she goes into exam room
• Have 2 different waiting areas "sick" and "well" • Separate patients with respiratory symptoms so that they are not waiting among other patients seeking care. Identify a separate, well-ventilated space that allows waiting patients and visitors to be separated.
• Upon entering into the practice, ask the patient the following question (if yes to at least 3, send to testing): Do you have a fever? Shortness of breath? Cough? Have you been around anyone who is sick? Traveled outside your normal area?
Encourage patients to have pharmacy delivery.
Premier has a partnership with NavCare, a telehealth vendor that practices can use to engage patients in remote patient monitoring and comprehensive care management. To adapt to the COVID-19 emergency, this vendor also offers an optional telemedicine platform for providers to integrate during this time. Click on this link to learn more about RPM and the benefits. Please contact your PBE for more information.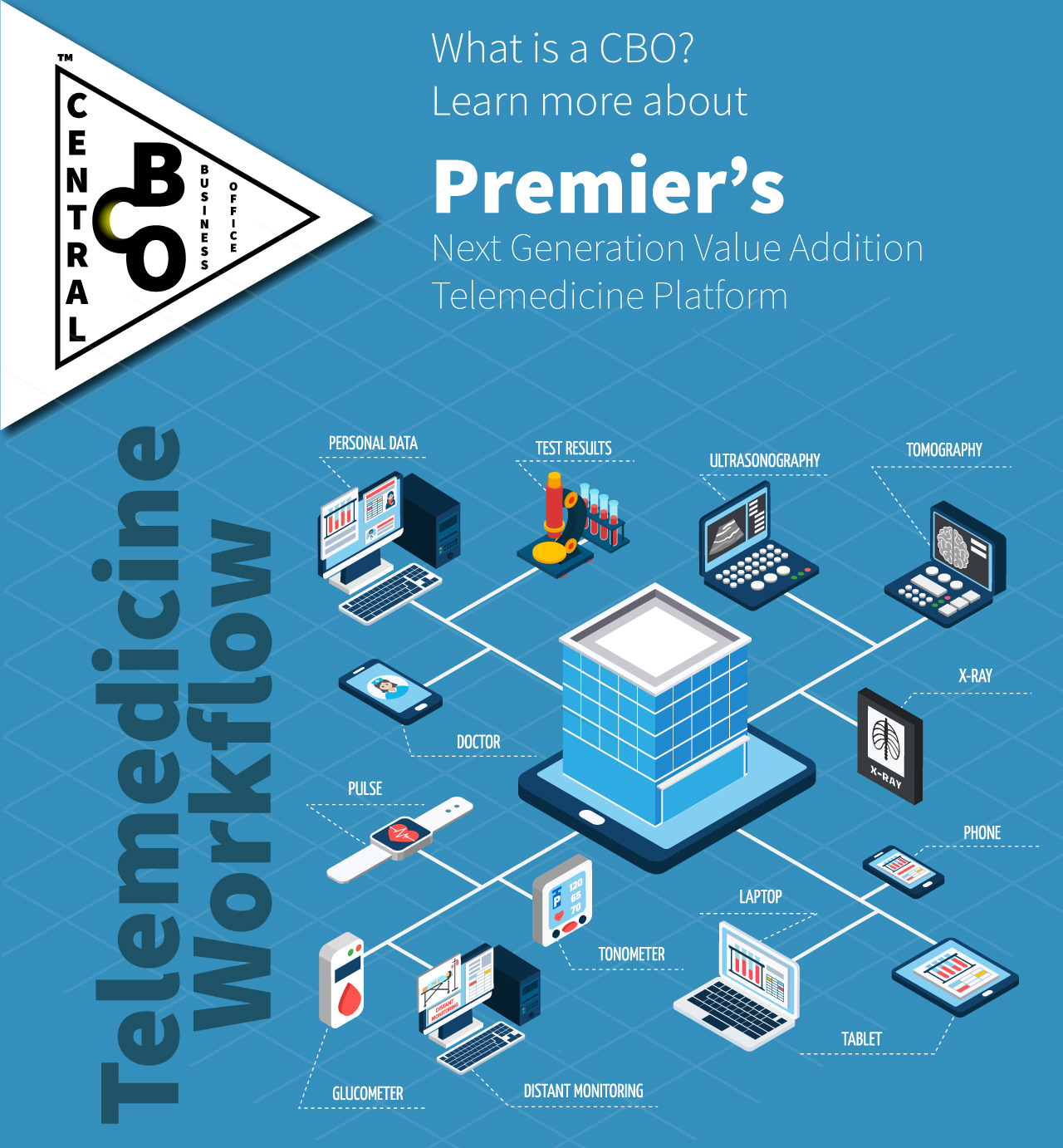 Important Updates for our Provider Community
At Premier we see healthcare evolving: more virtual, less commercial, and more value based. We want to work with providers and get their tele-health streamlined.
Premier is coordinating with the federal government to tap into incentives as a group. We are working with payors to drive dollars to you for quality payments in advance.
We have energized our ancillary programs that pay more than before such as CPL, RPM and Premier Rx. Furthermore, we are in discussions with a major payor to give fixed dollars per patient per month to our providers.
Learn more about Premier's Telemedicine platform backed by a CBO can maximize your practices' virtual operations.We are approaching Telemedicine not only as a technology platform but will also include a Central Business Office (CBO) which calls patients to schedule appointments and maintain a healthy calendar for the practices.
Providers can learn more from our Thursday webinars, weekly emails and website updates. We've customized our communications to understand your unique needs.
Resources for Healthcare Professionals
Get the latest updates on COVID-19 webinars, guidelines, protocols and policies. 
More Resources
Read the latest updates on COVID-19, guidelines, protocols and policies. (See PDFs below) 
We're here. Get in touch.
To learn more about what Premier can do for you please contact the Premier COVID-19 provider response team